by Sarah Porter (2016) 
Vassa In The Night is a book set in the world as we know it, but something strange is occurring with the night – it's lasting longer and longer but no one can prove it. Vassa and her magical talking doll, Erg, live in uncertain times but it doesn't help that Vassa's mother is dead and her father left. Vassa's sisters don't help situations either with their constant bickering and accusations of Vassa being a kleptomaniac. Only problem is that Vassa can't prove she isn't, so when she is sent out in the middle of the night to fetch some light bulbs from the local convenience store which bedheads any shoplifters, will she come out alive?
Because Brooklyn has magic (and not the good kind as the convenience store is run by Babs Yagg, a witch who has cursed the land) it makes things tricky for Vassa as she tries to pay her debt for a crime she didn't commit. It soon becomes clear she has to be the one to break the curse though, but Babs isn't one to play fair.
♥
I absolutely loved the strangeness of this book and the prelude at the start definitely had me capivated from the off. The premise that something has happened to night really captured the essence of this book that it's all about night and Vassa is the one to save it.
Erg was a delightfully cunning character and her relationship with Vassa was quite amusing at times – I didn't realise just how normal it could seem to have a talking wooden doll but I became accustomed to her little quips and quirks. She was probably my favourite character in the book overall.
For a short book, a lot of action is packed in but it was confusing to keep up at times with a few of the characters talking in riddles or alluding to ambiguity a lot of the time. The book was scattered with preludes which gives you an insight into another part of someone else's life (since the majority of the book is written in the first person) and these were the best bits for me as it helped to understand more about what was happening and where things all started.
What makes this book is the writing. It is written so well that I wasn't bored and it just suited me with the pace at which the story went. I probably wouldn't read this book again for a long while at least but it was so good to read for Halloween with it's slightly strange and creepy vibe at times with the casual beheadings of shoplifters by Babs and her gruesome 'hands' (remnants of previous shoplifters that guard the shop for her).
"Why did it take me so many years to understand that Night is something you can talk to, something that might even decide to watch over you or kiss you just when you're about to crumple from loneliness?" – Sarah Porter, Vassa In The Night
A unique story that I'm glad to have read. Now here come the spoilers because a few things happened in this book that I need to mention so look away to avoid being spoiled (there's only a few).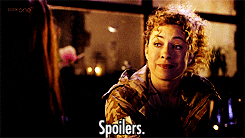 Night. I loved the concept of night being trapped inside bodies and kept under Babs' control but when Vassa discovered that night had been blinded and she needed to pull stars out of 'his' eyes to free night, it conjured up a rather vivid image (especially when she actually tried to pull the stars out) which was a bit unsettling. It was such a unique idea and instantly had me drawn into the story – I needed to know if night was saved in the end!
So even though we were told that Babs beheads any shoplifters (and sometimes innocents) I didn't think she would actually do it in the story. When Tomin died I was quite taken aback but what hit me harder was the loss of Erg. If I felt sad, then how did Vassa feel?
Of course Tomin was brought back though I mean how could he not have been? It was just so strange reading about a convenience store and Vassa using cans of pop to bring Tomin's body back together. But Erg wasn't brought back and that made me feel sad. The actuality of Erg was that she was a part of Vassa that was grieving at the time of her mother's death (so I got from the book) and that was a really strange addition to the story. Erg was a great character so it was sad to see her go in the end.
It was just a really strange and odd book but I enjoyed reading – prepare yourself for complete randomness and swans!