by Holly Bourne (2016)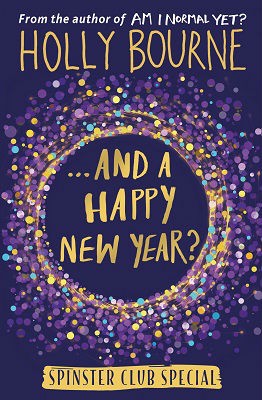 THIS BOOK IS AMAZING AND THE PERFECT END TO THE SPINSTER TRILOGY! I seriously love this series and AAHNY? was just a beautiful way of saying goodbye to the trio and letting us see them one last time.
I loved the Normal series (if you don't know what this is then see my post on Holly Bourne's books here to find out a bit more about this series) so when I finished What's A Girl Gotta Do? a few months ago, I was so sad to say goodbye to the trio but when I turned the last page, there was a picture of this book and I was grinning from ear to ear that we would get one final story with these girls – an unexpected and wonderful surprise! (And I also got my quote featured at the back of the book on my favourite spinster moment!)
I was so excited for the release of AAHNY so that I immediately went to the biggest Waterstones by me and bought myself a copy, unknowing to me that I would also win a copy from a Goodreads competition I entered! I tried to make it last but I finished it pretty quickly and it was just such a satisfying farewell that I could have written a personal thank you note to the author for it. It was just perfect! Not all the girls got their happily ever after (after all, they're only in their teens!) so it just shows that friends and family are the most important thing – to be surrounded by people who care for you and your welfare, not how many guys you've been out with or popularity.
The whole book takes place on New Year's Eve and every hour we read a little chapter from each of the girls' viewpoints, each detailing a problem that they're all experiencing but are keen to keep it from each other. I loved how obvious it was to me as the reader to just TALK TO YOUR FRIENDS but they wouldn't for fear of being the one who didn't have it together, or placing a problem on the others' shoulders when they already have some of their own.
Naturally, as the night goes on their problems get worse and they finally have to speak to each other which happens near the end and OH MY GOD is that a moving moment! Holly Bourne couldn't have written it more perfectly and I could feel their pain and emotion as I was reading this heartfelt moment – a hug to all readers out there that have loved and enjoyed reading about the Spinsters.
Life isn't perfect, not everyone has their shit together and sometimes your biggest problem is that you won't admit when you need help or support from another. Thank you so much Holly Bourne for these amazing books in the Normal series and for ending it so beautifully, they will forever remain proudly displayed on my bookshelf and I will never stop spreading the word about these books and encouraging others to read them too.