One of my favourite authors I discovered two years ago, is Holly Bourne, a young adult contemporary author. The first book written by this author that I read was The Manifesto on How to be Interesting – it really stuck with me after I turned the last page. It just had some of the most amazing sentences ever written and as I read them, I could actually feel my heart just latching on to the words and never wanting to forget them – she speaks truth.
The Manifesto On How To Be Interesting
The book is about a girl who is unhappy with her life, being rejected by publishers for her work leads her into creating the 'manifesto on how to be interesting' which involves her having a complete makeover, integrating herself with the 'popular group' at school, and basically resulting in a huge event of humiliation. The manifesto is a series of steps in order to guide someone on how to become interesting and Bree changes her life just so she has something 'interesting' to write, after accepting that her current writing isn't good enough. She posts on a blog the six steps in this manifesto she has constructed, along with updates on her progress with implementing this into her life.
It just showed that the people you see at school, or at work, or in the street, aren't actually what they seem; they could be a person trying to be something else, rather than just embracing who they are or someone unhappy in life and putting on a mask for others to see. If you want a reminder that it's okay to be you, then read this book!
I seriously need to reread this book soon, but if you're wondering whether to dip into this book or if you want a taste of this author's writing, then here are some quotes to hit you square in the chest as they did me whilst reading this INCREDIBLE book.
"I'm terrified that my journey won't tie up all the loose ends nicely. Because this is a life, not just a story, and life doesn't always go the way stories tell you." – Holly Bourne, The Manifesto on How to be Interesting

"Life is so bloody hard. I don't want the whole struggle to be pointless. If I'm going to get crap thrown at me from great heights my whole life, well, I want to damn well make sure I leave a mark on this world in exchange for all the misery." – Holly Bourne, The Manifesto on How to be Interesting

"Being interesting isn't important. But being happy is. As well as being a person you're proud of." – Holly Bourne, The Manifesto on How to be Interesting

"Love, as always, is what it comes down to. You have to love. It's the only way. Love for life. Love for others. And, most importantly, love for yourself." – Holly Bourne, The Manifesto on How to be Interesting

"Choose life. Choose love. And always remember to live." – Holly Bourne, The Manifesto on How to be Interesting
Okay I'll stop with the quotes now, but I cannot emphasise how brilliant this book is!
Obviously, after reading this book I was hungry for more of this author's writing, buzzing as I discovered she had two other books published at the time, I then read the first in the Normal series, Am I Normal Yet?
Am I Normal Yet?
This book was, unsurprisingly, amazing. As a person with a certain level of OCD, this book really put the reality of it into writing. Now I don't have bad OCD, but when I'm really stressed/upset I can start this counting thing that she explains so well in her book – it's where you do things a certain number of times till it 'feels right'. One scene that stuck with me was when the girl, Evie, was walking home and decided that if she touched the lampposts a certain number of times, something good will happen. Sounds crazy? Well it's reality for some people with OCD, I've done this before in times of desperation (I actually thought if I did something like wash my hands a certain number of times, I would get into vet school since I was applying at the time – I got in in the end, but I highly doubt it was down to this reason), and another particular scene describes Evie washing her hands and losing herself in a cycle of washing and washing, unable to break herself away from it.
So you've probably gathered that this book focuses on a girl with OCD and how life for her is as she enters the tricky world of friendship and relationships, and also how this impacts on her recovery. The story slowly unravels to follow this character on a downward spiral as she relapses, but the ending is amazing because her friends stick by her and the SPINSTER CLUB is born!
The Normal series follows three girls: Evie, Amber and Lottie with each book focusing on one character and their struggles in life. But they stick by each other throughout, through the wonderful creation by Holly Bourne of the Spinster Club – a celebration of the female gender and in-depth discussions regarding the barriers of women in the modern day. It's even brought young girls together and I even saw on social media that someone had made her own Spinster Club badges for her and her friends – how awesome is that?! Through the writing of one person, it can bring people together.
I've learnt some amazing stuff about feminism since reading the Normal Series, like the Bechdel test (google and be prepared to be shocked), which always makes the reading experience more enjoyable – when you learn new things.
"Everyone's on the cliff edge of normal. Everyone finds life an utter nightmare sometimes, and there's no 'normal' way of dealing with it… There is no normal, Evelyn."- Holly Bourne, Am I Normal Yet?

Soulmates
Soulmates – Holly's first published book. I wasn't as keen on this story compared to her others but the writing was still superb – I love her style of writing, the humour and wit of teenage girls, so similar to my own attitude and thoughts towards things sometimes – it's just so relatable.
This book is as the name suggests, all about soulmates. Two people meet each other and are just made for each other, but this means bad news for the planet because if two soulmates meet, they cause catastrophic damage and it is the job of a few select people in the know, to prevent this from happening. A cute romance underlain with a feeling of dread that all won't work out in the end.
I have to say that the relationship between Poppy and Noah was adorable to read about, but prepare yourself for a bit of a sad ending which left me kind of emotional and disappointed for the characters (don't worry, no one dies).
How Hard Can Love Be?
Lastly, How Hard Can Love Be? is Holly's fourth book, second in the normal series and is set in a truly stunning location and realllllly made me want to visit Yosemite Falls, inspired by the author's own experience when travelling through America. Amber goes to America to work at a camp with her mother and encounters her own troubles with guys whilst there, as well as a difficult relationship struggle between herself and her mother. How Hard Can Love Be? was a lovely read and it was so nice to be back with the Spinster Club. I also loved the Monty Python reference – the Knights who say… NI!
"Failure is never getting hurt. Because that means you've not done anything you cared about."- Holly Bourne, How Hard Can Love Be?
What's A Girl Gotta Do?
The last in the Normal series is called What's a Girl Gotta Do? and centres on Lottie and her battle for feminism. She has to balance her work life and aspiration for a career in politics, with her passion for feminism and changing the world. With not very supportive parents of her idealistic views and trolls on the internet, Lottie fights for what she believes in with the help of her friends.
"I want to change things on my own terms, to show that there's no right or wrong way to change the world. There's no entry test. You don't need to suck anything up. Pay any dues. Just you and your anger and your voice is enough. If you only have the courage to use it." – Holly Bourne, What's A Girl Gotta Do?
…And A Happy New Year?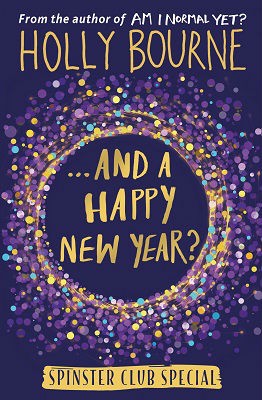 …And A Happy New Year? wraps up the Normal series and we say goodbye to the Spinster girls. It's a perfect ending to a brilliant series and reminds us that life isn't perfect and people are not perfect, but god this book is! It's a hug to every reader out there that has read and stuck beside the Spinsters throughout the entire series and a thank you for being there with them.
Holly Bourne is a brilliant author and her writing certainly caught my attention, as well as my heart a few times, and I can only wait patiently to see what she writes next once the third Normal book is published.
If you're still undecided whether to give Holly Bourne's writing a go, then here's all I have to say to you: